BEO Shopping Center:
From a Ruined Factory to 2 International Awards for Design and Architecture
BEO Shopping Center has won two prestigious International Property Awards in the "Best Retail Architecture" and "Best Retail Interior" categories. Center is located on the corner of Vojislava Ilica and Mis Irbijeve streets, covers an area of over 130,000 sqm and its offer comprises of more than 110 global and regional brands. The mall stands out with its innovative architectural concept following the latest global retail trends with more open surfaces, wide corridors, plenty of natural light, and greenery. BEO has spacious rest areas, a unique food court with two terraces, 13 modern restaurants, a multiplex cinema with 8 high-tech screening rooms, and a safe and protected children's playground.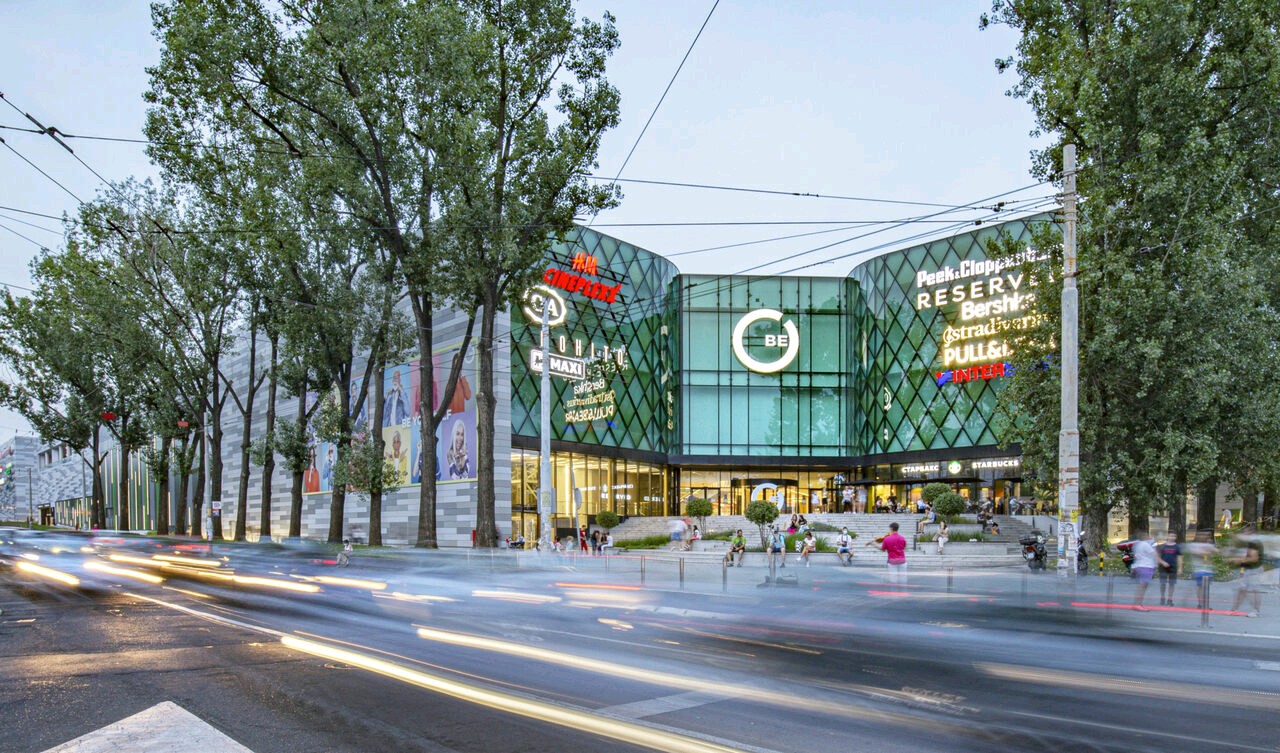 MPC bought the land of a ruined mechanical factory in May 2017, and immediately proceeded with changing it from industrial use to retail. It was clear that this particular location in East Belgrade and its proximity to the highway and major intersections was crying for a new shopping center.
It all began with just a piece of white paper and a vision to build a shopping center. But where does the inspiration to give the center an identity, a "face" and ambience come from? In principle the answer is simple: the customers, as they know what they want and need. Thus, the inspiration starts unspectacularly with market research, which is key in answering the question of all questions: "what do customers really want and need?". Though potentially seeming like a vague and not very charming statistic, it is truly the basis and mandatory element for any architect to start the design process.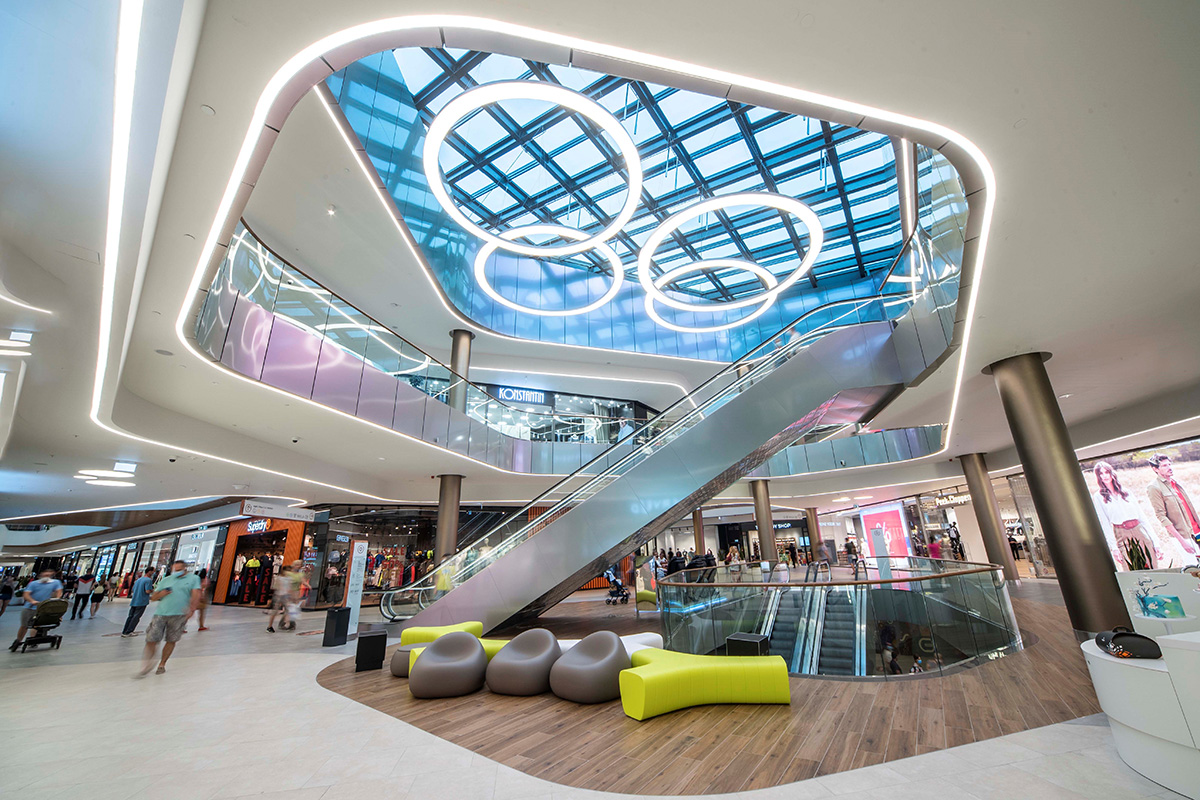 The outcome of the market study was that it brought to surface some very clear points in terms of the direction we should follow: light-flooded, with first and foremost an attractive and diverse retail offer, complemented by good entertainment, food and beverage choice, convenient parking, comfortable temperature, simply an overall pleasant ambience which excites the customer and makes them want to stay, because they just feel good. The ideas from all team members kept multiplying from meeting to meeting, but we all agreed that the new center should stand apart and differentiate from all existing centers in Belgrade.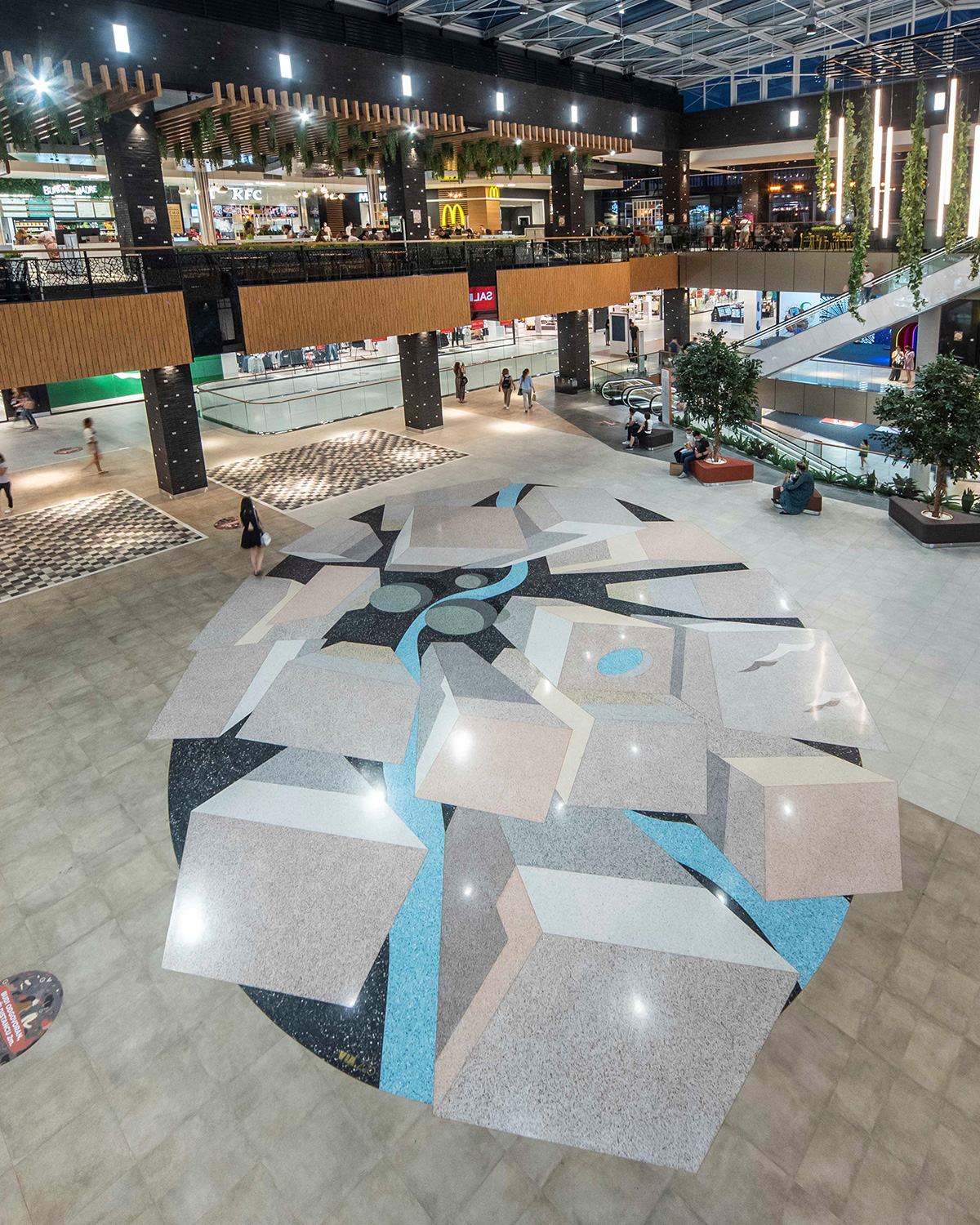 Before the center was even "born", we had a name. A young communication designer thought of the name BEO and developed the simple yet meaningful logo and branding. The name then further obliged us to make a clear link of the interior design to a "Belgrade theme". We concurred that every corner of BEO should be given its own identity. And that's how the "New Belgrade Square" with its futuristic design and materials at the main entrance came about, as well as the "Old Belgrade Square" on the opposite side with a unique ceiling depicting motives of monumental buildings and everyday life in Belgrade – both a result of design students' competition. Further on, the wallpaper of the second winner was used to decorate the walls of the corridors to the toilets, now also covered by graphic images of Belgrade. However, the clear design highlight lies on the central event square of the center where a big glass roof floods the food court and the event area with an abundance of natural light. A custom designed mosaic of BEO symbolizing the aerial view of Belgrade with the confluence of river Sava into Danube, allows visitors sitting on the food court veranda to marvel at the space below and events taking place.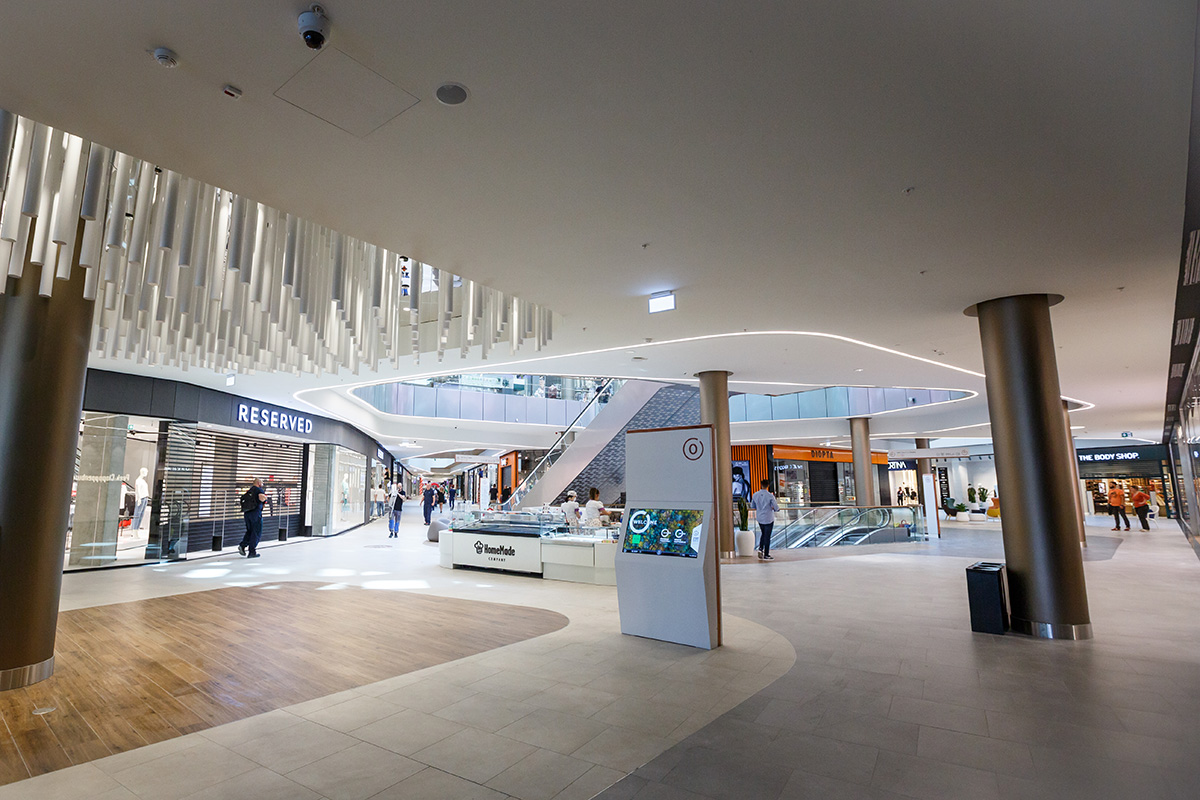 The greenery and custom designed furniture complete this inviting ambience with various types of sitting zones with charging stations for maximum visitor comfort, making it a truly unique space in Belgrade. BEO is also one-of-a-kind for its light flooded skylight, accomplished through the use of a combination of different materials successfully applied to provide a dynamic and vibrant environment throughout the center. The flooring, ceilings, columns, furniture, flowers and two outdoor terraces in combination with the food offerings from all over the world, invite one to dwell in the space for hours. Overall, the BEO masterpiece is a result of a fruitful collaboration of a Serbian, Dutch, German, Austrian and British designer orchestra.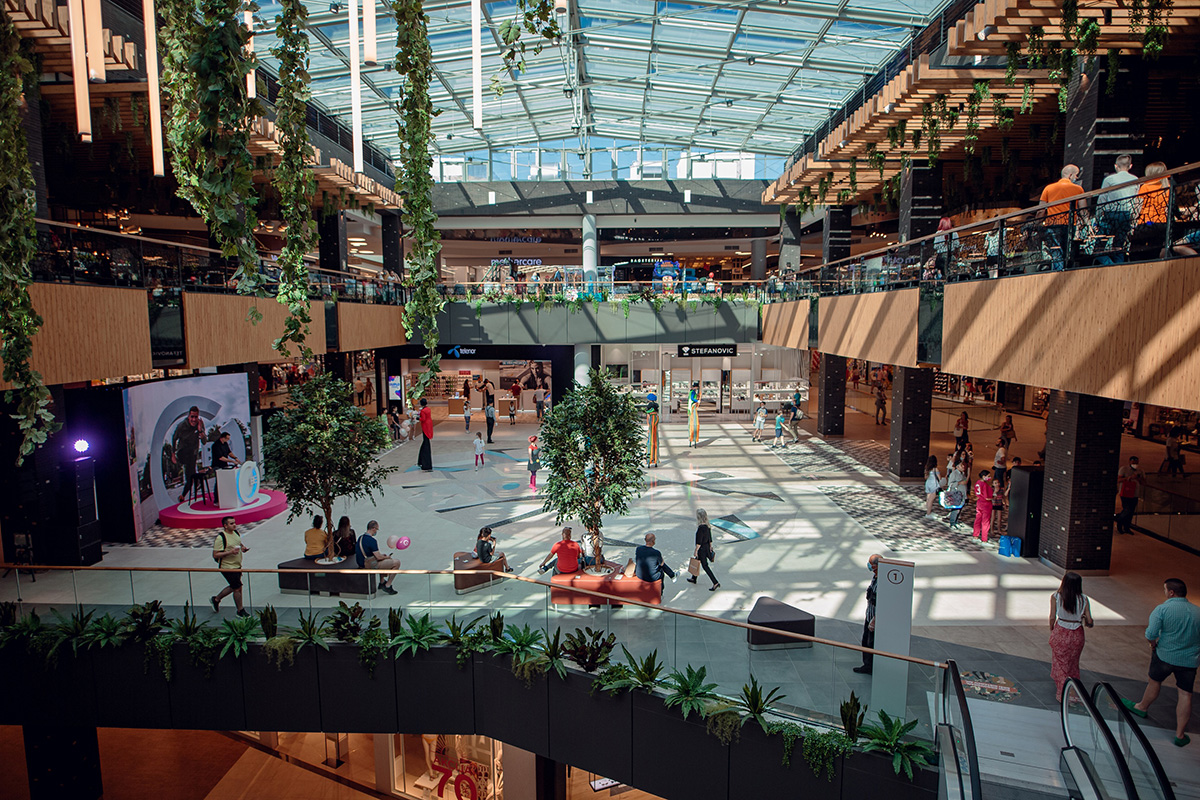 Architecture though, is only one side of the story, as 110 tenants fill the mall with their attractive shops offering the most diverse apparel for all age groups, but also food and beverage, entertainment, household goods, furniture, toys, services, and groceries. The combination of brand new with other well-established tenants was key in achieving success, and this took years of negotiating, contracting, altering until an equilibrium was reached, making it possible to open all units on the same day – the BEO grand opening date.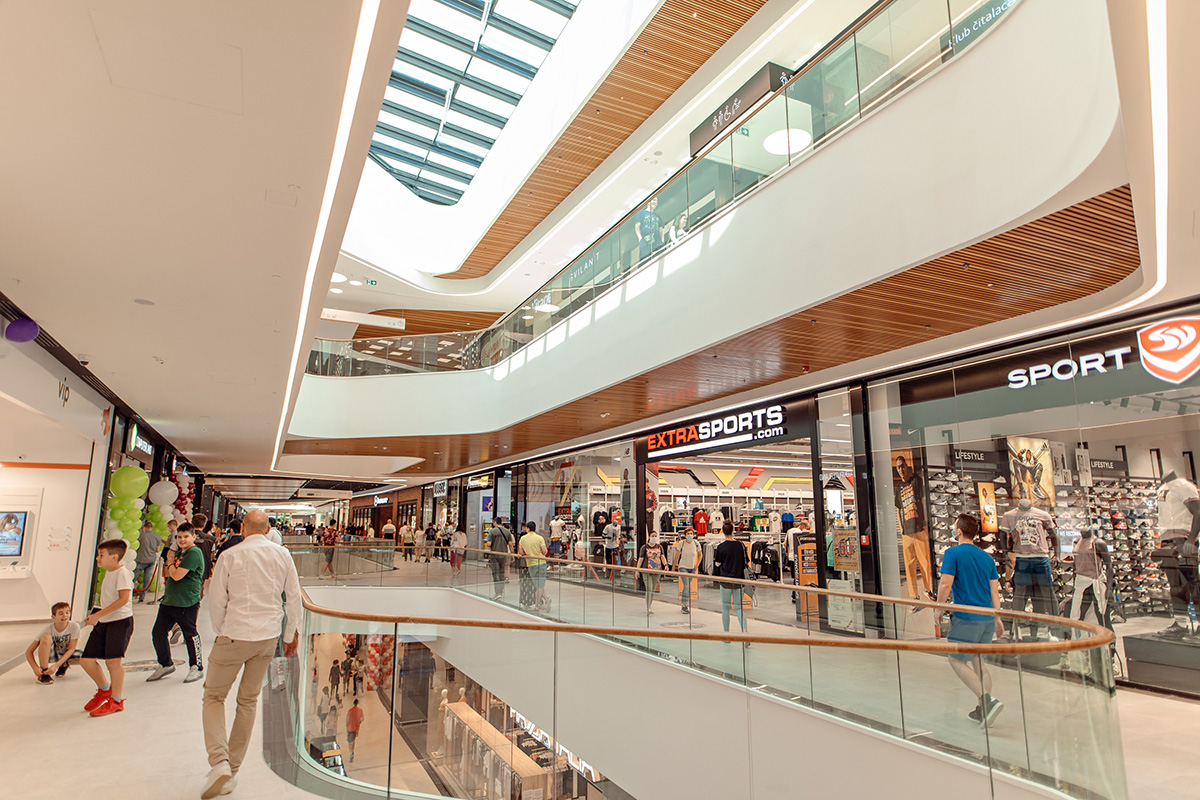 The process to turn an old, decayed factory into a beautiful, brand new shopping center was 2 years in the making. Numerous unexpected and inconvenient circumstances from cloud burst rains flooding the construction site to Covid 19 pandemic were overcome, as the joint efforts of all involved companies under the umbrella of Subotica contractor SMB mastered the challenges and made the dream a reality. The center opened 25th June 2020, and from that point on customers took over the center, as was our intention from day one.
REFERENCES
BEO project design team:
CHAPMAN TAYLOR – LAYOUT AND FAÇADE, INTERNATIONAL ARCHITECT GROUP
TTDESIGN – INTERIOR ARCHITECTURE NETHERLANDS
LICHTDESIGN – LIGHT DESIGN GERMANY
AIRDESIGN – WAYFINDING GREAT BRITAIN
MASINO PROJECT – BUILDING PERMIT AND EXECUTION DESIGN SERBIA
NORTHENGINEERING – EXECUTION DESIGN INTERIOR SERBIA
GREEN NOTE:
BEO is responsible regarding its environmental impact and is constantly working on prevention of waste generation and minimizing the usage of natural resources through efficient use of raw materials and improvement in equipment maintenance, better waste identification, minimizing landfilling, increasing recycling process and setting standard operational procedures for waste management.
Author: Ingo Nissen, former CEO at MPC Properties
This error message is only visible to WordPress admins
Error: No feed found.
Please go to the Instagram Feed settings page to create a feed.